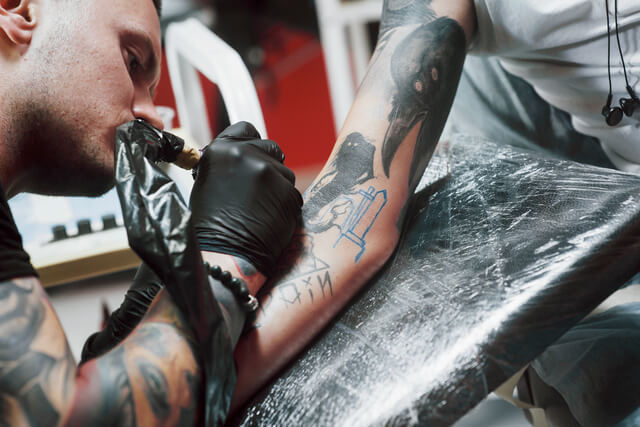 Getting a tattoo or piercing is an exciting decision to make to further express yourself and embrace your individuality. Before you take the plunge, there are a few tattoo and piercing factors to consider. In this article, we'll guide you through the journey and help you come up with a plan before you head out to the nearest tattoo parlor or piercing studio.
Nail Down the Right Design
When it comes to tattoos, design is everything. First, ask yourself the "why?" question. Why do you want body art? Whatever your reason is, let your answer guide your design decision. Your tattoo can communicate profound ideas and is a representation of your personality, and as such, you must choose wisely.
At this stage, you need to spend some time investigating and considering various design possibilities. Take into account your passions, interests, and sense of fashion. Do you gravitate toward simple or elaborate designs? Which would you prefer: a symbol of deep sentimental value or simply a gorgeous work of art? You can get a tattoo or piercing that feels genuine and distinctive by picking a design that speaks to you.
Where to Rock Your Tattoo or Piercing
The next thing to think about is the placement of your chosen tattoo design or piercing. Do you want the tattoo or piercing to be visible to others or will you only reveal it to close friends and family? You can decide by first taking into account your everyday life, and how it can affect your other commitments like work and studies.
Another important factor to consider is the associated pain level. Getting a tattoo or piercing involves some level of pain depending on where it is located on the body, which could also be influenced by your pain tolerance.
According to Healthline, the most painful body parts to get a tattoo on are those with many nerve endings. This includes your armpits, ribcage, ankles, shins, nipples and breasts, groin, and more. Meanwhile, the least painful ones include upper outer thighs, forearms, outer shoulders, outer biceps, calves, and the back.
When it comes to piercings, Healthline considers genital piercings as the most painful. It is followed by nipple piercings, nose piercings, and dermal piercings. The least painful ones are ear, belly button, tongue, and eyebrow piercings.
Researching Your Artist or Piercer
Now that you already have a target design and location for your tattoo or piercing, the next step is to do a bit of research. This is to be done before choosing a tattoo artist or body piercer, and it is best to look for the ones who have good reviews.
Examine online reviews, peruse their social media pages, and, if you can, visit their studios before your actual appointment. This way you can observe if they have a friendly environment, what their sterilization procedures are, and if they are big on hygiene. By doing a recce beforehand, you could potentially reduce pre-tattoo or piercing stress knowing you're in the good hands of a qualified and respected artist. This also gives you the chance to reconsider your decision, should doubts about choosing the right studio arise.
TLC Secrets for Aftercare and Maintenance
Next on the list, let's emphasize the importance of aftercare and maintenance. This is also one of the most important tattoo or piercing factors to consider.
For ideal healing and long-term satisfaction, tattoos and piercings need to be properly cared for. Ask your piercer or artist about the recommended aftercare regimen. They will give detailed directions on how to clean, moisturize, and stay away from any irritants.
Remember that over time, touch-ups may be necessary, especially if the tattoo has been exposed to the sun or has experienced wear and tear. Regular piercing maintenance may also be required, such as jewelry replacement or piercing site cleaning. Maintaining the health and beauty of your body art depends on your ability to make the dedication and effort necessary for aftercare.
Budgeting for Your Body Art
Last but not the least, it's essential to consider your tattoo or piercing budget before taking the plunge. The cost might vary based on the difficulty of the design, size, and the artist or piercer's reputation.
To learn about the pricing structures of various studios, conduct some research and contact them. Remember that high-quality work frequently costs more, so be ready to set aside a suitable budget for the greatest outcomes. Additionally, it's important to keep in mind that some artists provide payment plans or discounts for larger pieces, so don't be afraid to ask about your options.
Always remember that while taking your budget into account is important, you shouldn't sacrifice quality in order to save money. You want to make sure that this permanent addition to your body is created by a qualified expert utilizing high-quality materials.
Final Thoughts
Making the decision to have a tattoo or piercing is undoubtedly fun at the same time very personal. You can guarantee a great and fulfilling experience by taking into account the elements covered in this article, such as design choice, placement, artist selection, and aftercare.
Take your time, conduct extensive research, and trust yourself. Your next piercing or tattoo should be an expression of your uniqueness and a lifelong source of happiness. So, go ahead and start your creative adventure, sure that you made the right decision that would make you feel good about yourself.
At Ink by Finch, we take pride in giving our customers the complete experience by guiding them through their entire body modification journey. Besides executing the design of your dreams with complete precision and artistry, our artists are trained to assist you in fine-tuning your selection of designs and placements, as well to impart the best aftercare tips and tricks for both you and your tattoo. Contact us today for us to start this new chapter with you.